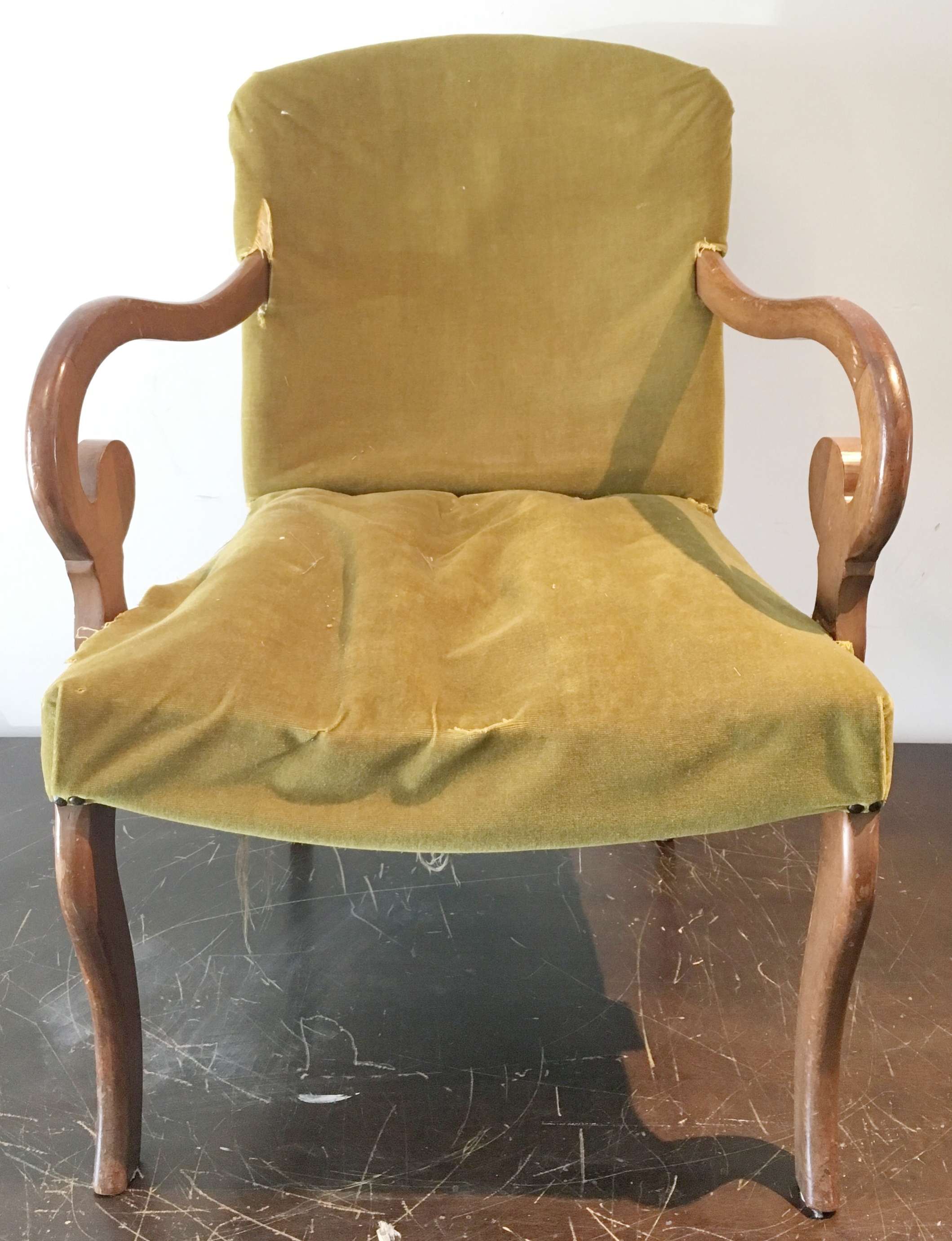 Many years ago, in my first year at OCAD (Ontario College of Art and Design) I was singing to myself in the quiet corner of an empty hallway looking out the window, down at the city streets. I thought that no one else was there.... until a head popped out from behind the row of lockers and said "hi". This head belonged to Josh Lyon. And thus our friendship began.
Josh is an incredible multi-disciplinary artist who usually works in film and video... in fact if you are familiar with my singing group Dala, then you may have seen his work. Josh created an original music video for our song Lennon & McCartney. He's a pillar in the Kingston art community and I try to stop by and visit him whenever I'm in town. On one of my recent visits with Josh and his family, I came across this green chair... well I'll call it chair, but I'm pretty sure "sitting" on it was no longer an option. The springs, although still intact, were bulging out of the bottom seat fabric, showing no signs of any foam or padding. The fabric was torn in more than a few spots and although I'm sure it was being well used by the kids, it was in dire need of some upholstery love. I could see that the shape and bones of this chair were beautiful so I took it home with me so I could bring it back to life for my friend Josh.
Man was I right. This piece is just lovely. Curvy arms and legs, a simple yet elegant back... it just needed a new lease on life. Having permission to do whatever I wanted, I decided to incorporated a piece of fabric art into the design of the chair. Having been a touring musician for over 15 years, I have seen my fair share of landscapes. There is something beautiful about that small strip of light that creeps out from behind a distant treeline. A peaceful glow of something bright on the horizon. And so I let me mind wander back to the drive between Toronto and Kingston. The stretch of road that passes through so many beautiful fields and forests. That's what I wanted to create; an ode to the beauty between me and my friend. But first... the upholstery.
I stripped back the old fabric and built it up new. First was the seat bottom. I vacuumed up all the old foam that had turned into orange dust (yes Mom, I wore my mask). Then I cut and placed the new foam over top, with a generous layer of upholstery padding on top, and finally the new fabric (some leftovers from a previous project). Next I pieced together and sewed the seat-back panel, added new padding and stretched it on. And finally I added the back panel and the bottom dust cover.
And now for the reveal!!! My personal touch on an already beautiful chair. I couldn't be happier with how it turned out, and I hope Josh's family loves it too.